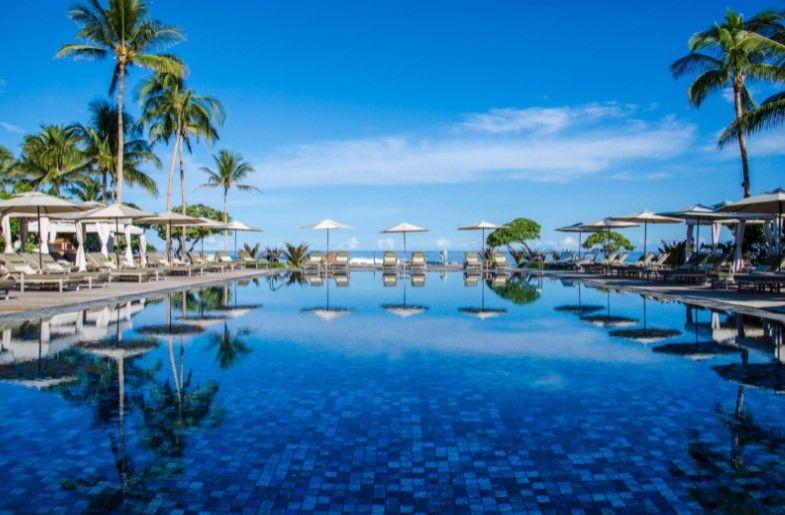 Welcome to Hualalai Resort!
Nestled along the picturesque Kona-Kohala Coast on Hawaii Island's leeward side, Hualalai Resort is an enchanting paradise surrounded by panoramic ocean views and a pristine landscape.
This master-planned hybrid hotel resort and private residential community offers the finest of luxury living in Hawaii with its gorgeous weather, high-end amenities, impressive upscale residences, and picture-perfect tropical scenery.
It's no surprise that this prestigious enclave attracts countless people looking to experience the very best of what Hawaii's Big Island has to offer. If you're dreaming of savoring an unparalleled luxury lifestyle in Hualalai Resort, you've come to the right place.
This page will serve as your guide to Hualalai Resort homes for sale. You'll get an insider's look at this resort community, the real estate options available, and get several tips that will help make your entire home buying experience seamless and stress-free.
Welcome to Hualalai Resort. Welcome to your new home in paradise.
What's inside:
Hualalai Resort at a glance
The master-planned residential resort development of Hualalai Resort sits on 865 acres of prime oceanfront property conveniently located just ten minutes away from the Keahole-Kona International Airport and about 15 miles from Kailua-Kona.
The award-winning development offers a serene, laid-back coastal retreat inspired by ancient Hawaiian villages, creating an incredible setting and experience like no other. The entire property sits on a gradually sloping landscape 225 feet above sea level with numerous communities each with its own unique character and charm, all surrounded by breathtaking natural splendor and blessed by refreshing tradewinds.
The resort community offers an array of world-class amenities such as:
Two championship golf courses
State-of-the-art sports and fitness facilities
World-class gourmet restaurants
Upscale boutiques
The Kaupulehu Cultural Center
The Hualalai Spa
The Hualalai Canoe Club & Residents' Beach House
All these are highlighted by the luxurious Four Seasons Resort Hualalai, a Five Diamond oceanfront hotel surrounded by sun-kissed white sand beaches and stunning black lava landscapes.
Why it's a good place to own
At the core of Hualalai Resort is a gathering place for friends and family.
Beyond its identity as one of the world's top resort destinations is a place that embodies 'ohana, the Hawaiian term that speaks to the concept of having a larger family bound together by love, loyalty, and genuine compassion for one another.
Owning a home in Hualalai gives you endless opportunities to deepen connections you share with your loved ones. Here, every moment spent with friends and family is savored, and all memories shared last a lifetime.
Shop for the ideal Hualalai home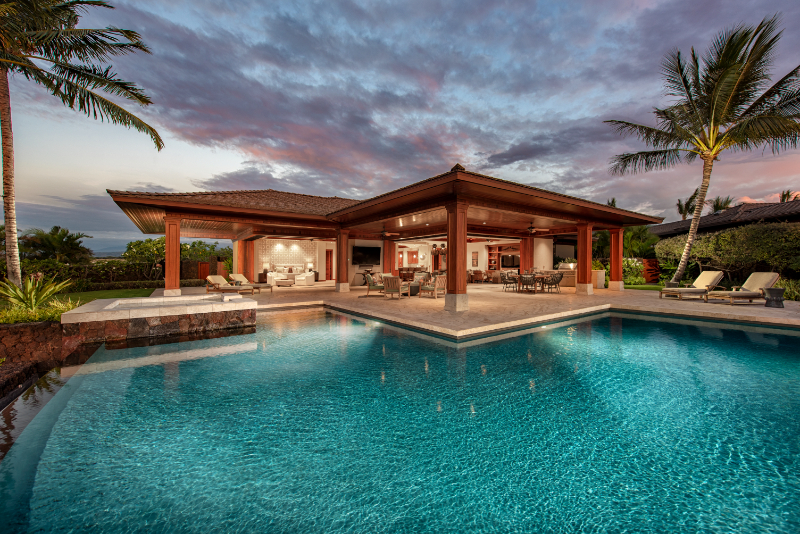 The properties
An impressive selection of homes and villas abound for those dreaming of living in the mauka-to-makai (mountain-to-sea) paradise of Hualalai Resort.
The real estate options in Hualalai Resort can accommodate almost any type of requirement and preference. You'll be able to find a wide variety of exceptional properties ranging from single-family homes, villas, stacked flats, townhouses, and estate villas, each with its own unique features and benefits designed to offer the ultimate in luxury resort living. There are also home sites offering oceanfront, golf course, or mountain vista views, perfect for those planning to build their very own custom home.
Hualalai Resort homes for sale are typically sold furnished, regardless of whether they're on the secondary market or new construction.
A few examples of features available in Hualalai Resort homes for sale include:
Views of the resort, the golf course, the ocean, and the coastline
Lush manicured lawns and grand entryways
Spacious living areas bathed in natural light
Gourmet kitchens with state-of-the-art appliances and granite islands and countertops
Oversized master suites with large walk-in closets
Elegant bathrooms with custom tilework, top-quality fixtures, and outdoor showers
Indoor-outdoor living spaces with features like lanais, sundecks, and patios perfect for entertaining
Single-family homes
Hualalai Resort single-family homes for sale are airy, light-filled, and equipped with a range of high-end features designed to offer a luxurious lifestyle. Many have outdoor features that take full advantage of the resort's lush tropical setting, with features like private swimming pools and spacious outdoor living areas surrounded by panoramic ocean vistas.
All new construction homes require approval from Hualalai, and roofline and structure heights are regulated to protect the views of surrounding homes.
Single-family neighborhoods in Hualalai Resort include:
Anea Estates – 7 lots, upper resort
Hainoa Estates – 4 lots, upper resort
Hale at Ke Alaula – 14 lots, mid resort
Hokuloa Estates – 8 lots, mid resort
Ka'ulu Estates – 12 lots, lower resort
Kahikole Estates – 3 lots, mid resort
Kai Malino Estates – 15 lots, lower resort
Kaimupulehu Estates – 9 lots, upper resort
Kanae Estates – 4 lots, upper resort
Kumukehu Estates – 13 lots, lower resort
Lau'eki Estates – 15 lots, mid resort
Lau'eki Place Estates – 6 lots, mid resort
Lipoa Estates – 10 lots, upper resort
Noi'ulu Estates – 4 lots, upper resort
Pi'iuka Estates – 12 lots, upper resort
Puka Pa Estates – 12 lots, mid resort
Pu'u Kole Estates – 9 lots, mid resort
Pulehu'ula Estates – 6 lots, upper resort
Waiulu Estates – 13 lots, lower resort
Condos, villas, and townhomes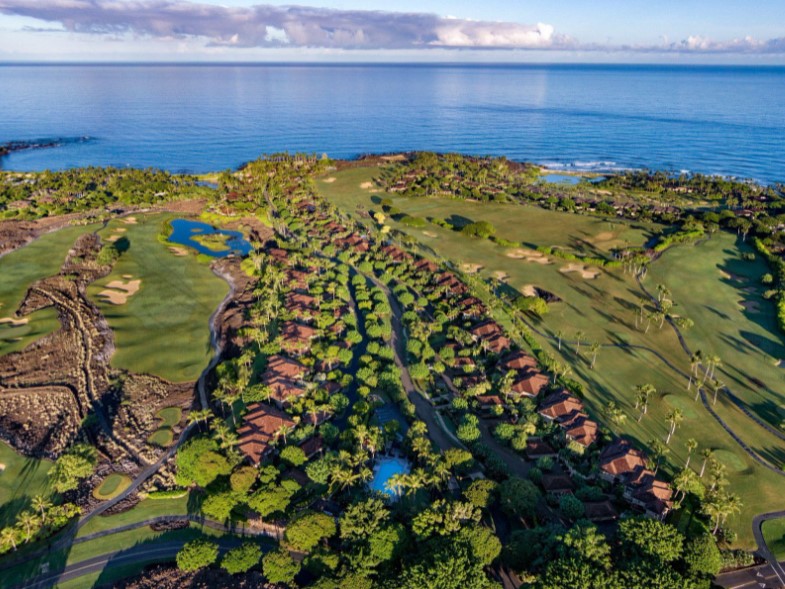 Hualalai Resort's condos, villas, and townhomes are an ideal option for ease of ownership since water, insurance, and landscaping is maintained by the condo association.
Condo, villa, and townhome residences in Hualalai Resort consist of single-level flats, 2-story townhomes, and condominiumized homes with private pools.
Condo, villa, and townhome neighborhoods in Hualalai Resort include:
Estate Villas – 12 condominiumized homes with private pools
Estate Villas at Hainoa – 10 condominiumized homes with private pools
Fairway Villas – 16; 2 & 3 bed flats
Golf Villas – 20; 3 bed flats
Hainoa Villas – 20; 2 & 3 bed flats
Hali'ipua Villas – 12; 3 bed townhomes
Hillside Villas – 21; 2 & 3 bed flats
Ka'ulu Villas – 20; 3 bed townhomes
Kauhale Villas – 3; 3 bed condominiumized homes with private pools
Na Hale at Kahikole – 8; 3 & 4 bed flats
Palm Villas – 10; 3 bed townhomes
Villas at Ke Alaulu – 17; 3 bed townhomes
Waiulu Villas – 24; 2 & 3 bed flats
Getting started on buying a home in Hualalai Resort
At Pinkert & Loratta Hawaii Luxury Properties, we aim to make every home buying experience efficient, seamless, and stress-free so that our clients can enjoy their new home in paradise as soon as possible.
Here are a few helpful tips to keep in mind to help you prepare for your purchase.
Find the right Realtor in Hawaii
Buying a home in Hualalai Resort is a serious investment, so you want the best people at your side as you navigate each step of the process. You want to find professionals who are familiar with the area and community you want to purchase in.
When you work with Pinkert & Loratta Hawaii Luxury Properties, you get more than three decades of experience, extensive knowledge of Hawaii's luxury resort communities, and our network of resources at your disposal. Our team has been into nearly every single property in Hualalai and has built relationships with the builders, architects, landscapers, interior decorators, tradespeople, real estate attorneys, and other professionals specializing in the community.
With our team of local experts at your side, you'll have a greater chance of finding the right property that perfectly matches all of your unique needs and preferences.
Create a list of must-have features
Before you browse Hualalai real estate options, knowing what features you'd like to have will make your search easier. Start with listing down the basics like size, number of bedrooms, and then make your way to specific features such as private swimming pools, patios, proximity to resort and club amenities, and so on.
Keep this list handy when you look at listings, so you'll see how each property stacks up according to your preferences. But remember to be flexible – if you happen to come upon a home surrounded by absolutely stunning views, then forgoing some of the features you originally wanted might be well worth the tradeoff.
Schedule real estate visits in advance
Peak season at Hualalai Resort is typically from mid-December to mid-April, so remember to schedule real estate visits in advance. If you're waiting for new properties on the Hualalai real estate market, be on the lookout for new listings from the fall into the new year.
Seeing a luxury home in person allows you to truly appreciate a particular property, and get a closer look at its interiors and what's around the home. Crisp, high-definition photos do not do justice to high-end homes at times, so it's better to be there in person if you want to get the full experience.
Don't skip the home inspection
Seeing a home in person, however, will not always reveal the complete picture, so getting a professional inspection is a must.
A professional inspector will be able to reveal underlying issues and potential deal-breakers which could cause major problems down the line. A quality professional inspection will give you in-depth information on the home's overall condition, making you aware of the possible costs, maintenance, and repairs the home may need immediately and over time.
Have some patience
The Hualalai real estate market can be extremely competitive at times, so having a little bit of patience during your home search will go a long way.
Avoid feeling discouraged in case you lose out on a property. As long as you work closely with your agent and make well-informed decisions throughout the process, you'll eventually get the keys to a home that matches your vision.
Benefits of owning a home in Hualalai Resort
Hualalai Villas & Homes property management options
Owners of Hualalai villas & homes will be able to select from a wide assortment of professional full-service property management companies, giving them peace of mind whenever they're away.
Property management companies serving Hualalai villas & homes offer a service-oriented approach across a full range of services from maintenance and housekeeping to marketing and concierge, ensuring your home and guests are well-cared for at all times.
Hualalai Club Membership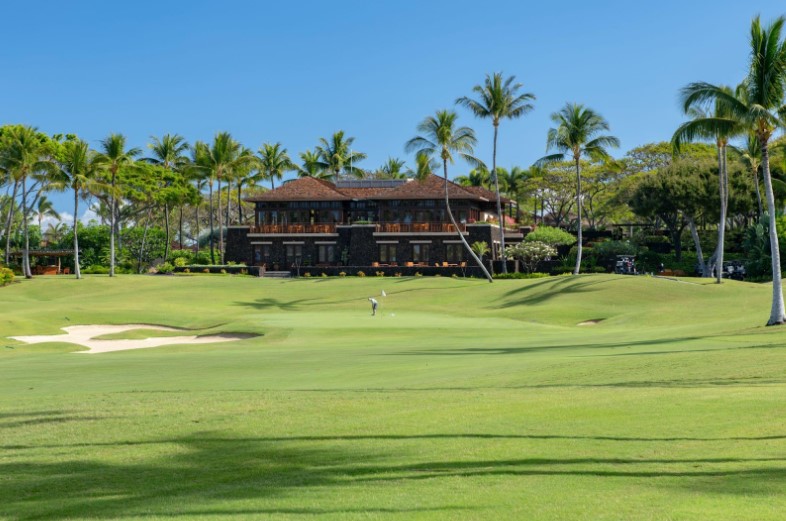 Hualalai Resort property owners and their families get exclusive membership privileges, allowing them to enjoy a luxurious lifestyle like no other. Residents also get to experience a stellar lineup of special events throughout the year, offering endless opportunities to build relationships and create memories with family and fellow club members.
Hualalai Club Members get exclusive access to private club facilities. These include a fitness center, private swimming pools, two private members-only restaurants (the Hualalai Canoe Club and Ke'olu Clubhouse), and the 18-hole Ke'olu Golf Course designed by renowned golf course architect Tom Weiskopf.
All charges at the restaurants, bars, recreational facilities, and boutiques are assigned to each Hualalai Club member's account number, so they don't even need to bring their wallet with them while at the resort. Members also receive discounts at various amenities.
Here's a closer look at some of the top-notch amenities available to Hualalai Club Members:
Golf
Hualalai Resort is home to two exceptional golf courses:
The Hualalai Golf Course is an 18-hole Jack Nicklaus signature championship golf course masterfully designed to complement its unique environment, offering an incredible playing experience in a picture-perfect setting. The prestigious course spans 7,100 yards starting in a serene oasis, seamlessly flowing across meticulously maintained fairways sculpted through black lava, before taking players back to the coast for the final holes.

Designed by Tom Weiskopf, The Ke'olu Golf Course is a Hualalai Club members' only course that treats players to an unforgettable playing experience across undulating terrain surrounded by a breathtaking landscape. The par-36 course measures over 3,500 yards from the farthest tee and more than 3,300 yards from the championship tee.
Both courses have their own driving ranges and putting practice areas. Hualalai Club Members also get access to golf clinics, rental clubs, and weekly and annual golf tournaments.
Tennis
Tennis courts at the Hualalai Tennis Club feature the Rebound Ace® Mat System, which plays like a hard court but is made from a soft cushioned surface composed of fiberglass and polyurethane rubber.
Members looking to level up their tennis skills get access to private lessons, instructional clinics, and even opportunities to challenge a pro! Hualalai Tennis Club programs are popular for members of all ages and skill levels, as they offer terrific opportunities to fine-tune your skills and perfect your game.
For younger players, the tennis club has the Hualalai Jr. Tennis Academy, a junior tennis development program designed for children ages 4 to 12.
Ocean activities
Hualalai Club Members get complimentary access and discounts on a variety of exciting ocean-based recreational activities including rib craft boat adventures, Hawaiian outrigger canoes, snorkeling, paddleboarding, and more.
Visit the Alaka'i Nalu website for information on the different ocean activities available for club members.
Fitness
Premier Members, inclusive family members, and escorted guests get access to fitness equipment, the weight room, and complimentary fitness classes at the Hualalai Sports Club.
The club features a spacious open-air warm-up and stretching area, indoor strength and cardio gyms with state-of-the-art fitness equipment, private studios, a half-court basketball area, and a 25-meter lap pool.
A custom wellness program can also be created by the club's certified personal and wellness instructors.
Another first-class facility available to Hualalai Club members is the Ke'olu Clubhouse, which features a 25-meter infinity-edge pool and an expansive indoor/outdoor fitness pavilion surrounded by panoramic ocean views.
Spa
Savor a relaxing and rejuvenating experience at the Hualalai Spa, nestled in a lush, secluded location inspired by nature itself. The spa uses locally sourced ingredients and healing Hawaiian extracts infused by essences from the island itself, immersing your senses to the Kona-Kohala coast.
Spa offerings include massage therapies, wellness services, skincare therapies, babymoon services, access to the full-service Hualalai Salon, and more.
Dining
Premier members, their family members, and escorted guests get exclusive use of the Ke'olu Clubhouse and the Hualalai Canoe Club, along with priority access to reservations at the Residents' Beach House during peak periods.
The dining venues at the resort are:
'ULU Ocean Grill – Savor picture-perfect ocean views alongside authentic Hawaiian cuisine at 'ULU Ocean Grill. This restaurant offers a casual and friendly vibe with an innovative ocean-to-table menu filled with fresh, top-quality signature dishes such as tableside ahi poke, oven-roasted whole fish, and lobster Pad Thai.

'ULU Ocean Grill is open for dinner.

Beach Tree – Diners at Beach Tree are treated to a delightful menu of Italian and Mediterranean cuisine with Californian and tropical influences. Be sure to try their bestselling specialty dishes like their housemade rigatoni pomodoro and marscapone with prosciutto pizza. Beach Tree also offers an extensive wine list and a wide selection of cocktails made with fresh fruit and other tropical ingredients.

Beach Tree is open for lunch and dinner.

Hualalai Grille – Indulge in Hualalai Grille's prime steaks, handcrafted sides, and delectable desserts in a casual yet sophisticated setting surrounded by magnificent views.

Hualalai Grille is open for dinner. The lounge is open on Wednesdays to Sundays from 2:30pm to 5:30pm.

Residents' Beach House – Enjoy a relaxing culinary experience at the Residents' Beach House, which offers a casual lanai setting next to the serene Waiakauhi Pond. The restaurant offers a variety of seafood, salads, pizza, pasta, and meats grilled to perfection, together with an extensive cocktail and wine menu.

Residents' Beach House is open for lunch and dinner.

Hualalai Trading Company – Located in an expansive outdoor deck surrounded by spectacular scenery, Hualalai Trading Company is the perfect place to relax and unwind while sipping on a fresh cup of Kona coffee, flavored fine teas, or refreshing fruit juices and teas. Complementing their terrific beverages is a wide array of freshly baked pastries, bagels, quiche, breakfast burritos, yogurt, fresh fruit, and more.

Hualalai Trading Company is open from 6:30 am to 6:00 pm daily.
Thrilling adventures just right outside your door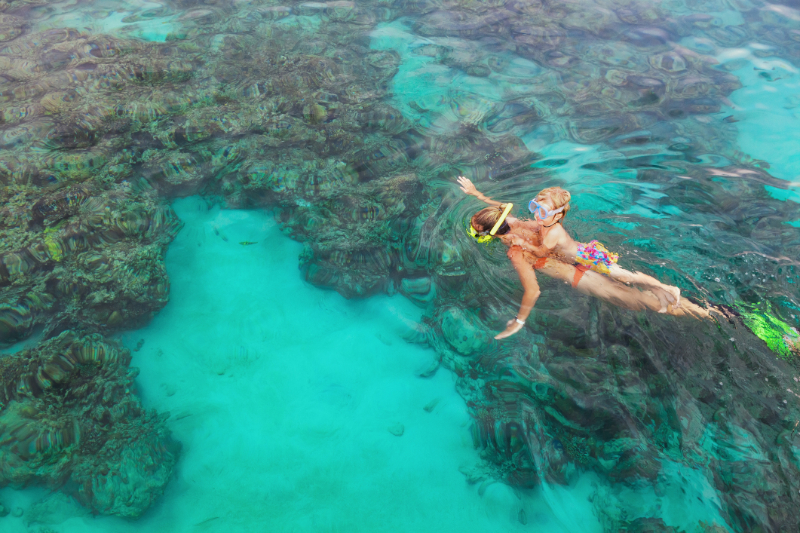 While everything you need to relax and enjoy life is within Hualalai's picturesque 865-acre property, a near-endless amount of unforgettable outdoor adventures is waiting for you throughout the Big Island. Whether you're looking forward to a challenging hike or a relaxing day at the beach, the variety of destinations just outside Hualalai Resort is guaranteed to satisfy outdoor lovers of all ages.
You can head to Waipio Valley, one of the most scenic and secluded hiking destinations on the Big Island. There's also Papakolea, also known as Green Sand Beach, one of only four green sand beaches in the world. For an exhilarating adventure, head to the summit of the majestic Mauna Kea, a volcano with a height of 6.2 miles from the base – taller than Mount Everest by 0.7 miles.
Looking for more activities? Get a glimpse of an active volcano or enter a cave-like lava tube by visiting Hawaii Volcanoes National Park, walk on a solid lava lake by hiking the Kilauea Iki Trail or see green sea turtles at a black sand beach by taking a trip to the Punalu'u Black Sand Beach.
Those who are always looking for ways to challenge themselves will be thrilled to know that Hualalai is a top destination for participants of IRONMAN and Lava Man races.
These are just some of the many outdoor adventures waiting for you on the Big Island!
Choose from the finest Hualalai Resort homes for sale today!
Ready to start living the dream in Hualalai Resort?
Pinkert & Loratta Hawaii Luxury Properties has nearly 35 years of collective experience at Hualalai Resort and has established a stellar reputation for their ability to provide first-class client service. With the team at your side, you get an in-depth view of the Hualalai Resort lifestyle including the amenities, the neighborhoods, the different types of properties, and all of the things that make it such a special place to call home.
Through Pinkert & Loratta Hawaii Luxury Properties' partnership with Compass, the largest and most prestigious independent brokerage in the country, clients get a level of flexibility and innovation that other brokerages simply cannot match.
Whether you're looking for a permanent residence, a vacation home, or an investment property at Hualalai Resort, Pinkert & Loratta Hawaii Luxury Properties will be at your side throughout every stage of the process, so you can achieve your real estate goals with ease.
Your home in paradise is waiting for you! Take that first step towards living your dream lifestyle with your loved ones today by getting in touch with Tony L. Pinkert by calling 808.989.4900 or Thomas Loratta by calling 808.895.5548. You can also leave us a message by heading to this page.