Main Content
Pinkert & Loratta
Tony L. Pinkert and Tom Loratta are both perennial Top 100 agents in the State of Hawaii and members of the Hawaii Business Magazine's Real Estate Hall of Fame. They formed Pinkert & Loratta as a team brand and specialize in real estate sales at Hualalai Resort as well as the other most exclusive Kona-Kohala resort properties of Hawaii Island.
Their partnership with Compass provides Pinkert & Loratta with flexibility and innovation that other brokerages cannot match. Compass is the #1 largest independent brokerage in the country with substantial market share on the West-Coast. Compass has successfully fused technology with real estate to elevate their agent's business and provide you with the best possible results.
Tony and Tom's knowledge of the Kona-Kohala Coast luxury real estate market, combined with a passion for sharing it with others, has led to more than $467 million in real estate sales since 2017.
With nearly 35 years of collective experience at Hualalai Resort and over 60 years of overall real estate experience, they have garnered a superb reputation matched with unrivaled experience.
About their passion for the business, "We love making the deal and delivering something really special to our clients. Owning property in Hawaii is like owning a piece of paradise for you and your family to enjoy. Very few have this unique opportunity."
learn more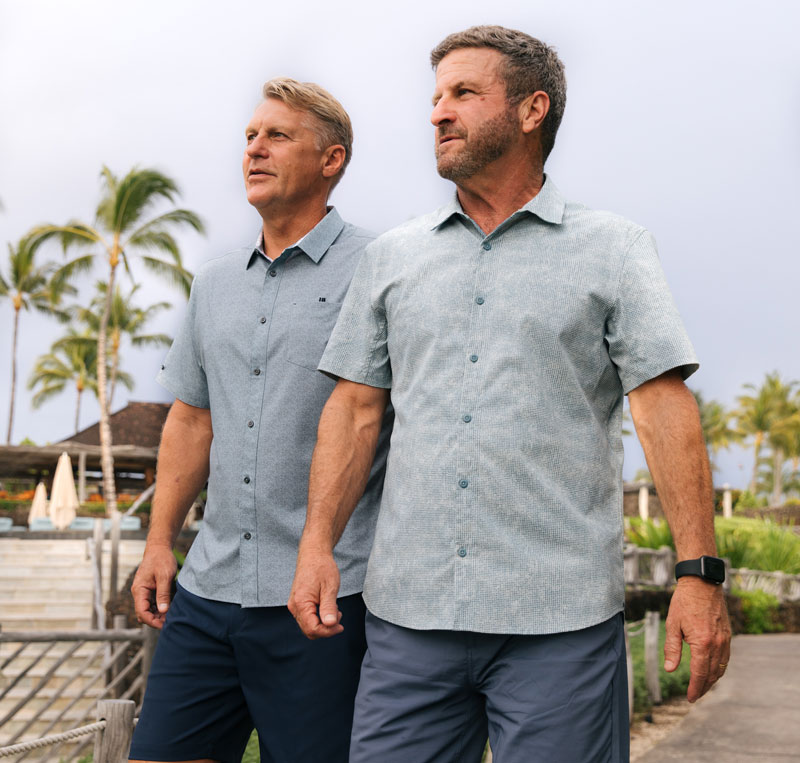 What Our Clients Say
Jim and I just wanted to send a quick note thanking you for the great job and quick sale on our villa at Hualalai. Our friends can't believe how quickly our villa sold and frankly, neither can we. You did a great job of marketing, getting clients out to look and then the best part…follow through! We are very happy we used you and Elite Pacific to sell our villa at Hualalai. Mahalo, Mahalo, Mahalo!
Gratefully, Jim and Robin U.
We will always deeply appreciate how Tom and Tony marketed our house so effectively and with your knowledge and advice you are in a class of your own.
All the best to you!!
We began working with Tom & Tony in 2009 because of their knowledge and expertise of the Hualalai community and its properties. Our experience was very positive so we've remained in close contact and in 2017 we used them and their new brokerage, Elite Pacific Properties, to represent us in both the sale of our home and the purchase of a larger home in the resort. Again, the transactions went smoothly and we had successful closings because of their patience and flexibility in handling the many details and complications. We recommend both Tom & Tony highly.
We have known Tom Loratta for 15+ years and have the most wonderful, trusting, and professional relationship with he and his staff. We recently sold our beloved family Villa at Hualalai and it was a very emotional and heartfelt decision. Tom was there for us, from the beginning of the listing, to the very last day of escrow closure, ensuring a smooth and timely transaction, and additionally providing calm, professional, and loving communication between the buyer and seller. We were treated fairly and honorably. There is no one we would ever consign our business with besides Tom Loratta of Pinkert & Loratta and the very knowledgeable staff and partnership that go along with the decision to sell. Thank you, Tom, for making this sale an easy and carefree transaction.
Our experience with Tom Loratta and his team was nothing less than stellar. We knew selling our property was going to require hiring an agent that was willing to go above and beyond. Our sale could not be approached as a cookie cutter listing: it was going to take an agent with extensive real estate experience, a wide-breath of knowledge, a large network of contacts and savvy. After interviewing four other agents, we knew Tom was the person we wanted to work with and who could best represent our property and us. Our combined ocean front property was very unique. During the sales process, Tom was always very responsive. He was proactive in gathering all the information that was needed for this complicated sale, and he graciously handled anything that was thrown his way. Since we live in California all that brought us great peace of mind. It was a pleasure working with him!